The environment is in focus in our everyday lives. Our services make a positive contribution to a more sustainable and greener society. However, our operations also carry an ecological footprint. Our work is based on a vision of causing zero harm to the external environment and QHSE (quality, health, environment, and safety work) are the very foundation of our business. Our QHSE-policy and management system steer and supports us. Many of our tools and equipment require a lot of energy, but we can make a difference by changing routines and mindsets. For us it means that we constantly look for more environmentally friendly solutions and alternatives. We also invest considerable resources in our environmental work, in part by dedicating employees time to work on potential environmental improvements, surveys, measurements and ambitions.
Norva24 strives to reduce its environmental and climate impact by directing its efforts towards areas with the biggest impact. We focus on reducing our energy consumption by for example turning off equipment, computers, compressors, lights and other systems when not in use. We perform preventive maintenance to ensure the longevity of our machines and equipment and we sort and recycle our waste. Norva24 also focuses on reducing its fuel consumption. We use fleet management and optimization of driving routes; we drive carefully and environmentally efficiently, and we strive to ensure that we have the right capacity on the car to reduce the number of trips. This work will greatly impact how we navigate on the road to the future.
Vehicle fleet
Norva24 has invested in a modern and environmentally classified fleets of vehicles, which supports our environmental ambitions and increases operational efficiency. Our vehicle fleet is relatively young, with approximately 80 percent of the operating fleet being younger than 10 years. All vehicles in the Group's fleet utilize a wide range of specialist equipment, and each type of vehicle is used for a variety of specified tasks.
In 2021, we had just over 860 operating vehicles in our fleet, of which just over 50 percent were classified as Euro 6 emission standard.
Route planning
Norva24 constantly works to improve and optimize our vehicle routing. Due to our high network density and digitized processes, we have efficient route planning systems that enable us to complete more jobs, spend more time working on assignments, rather than inefficient traveling, and help us to reduce the use of energy and fuel as well as lowering emissions.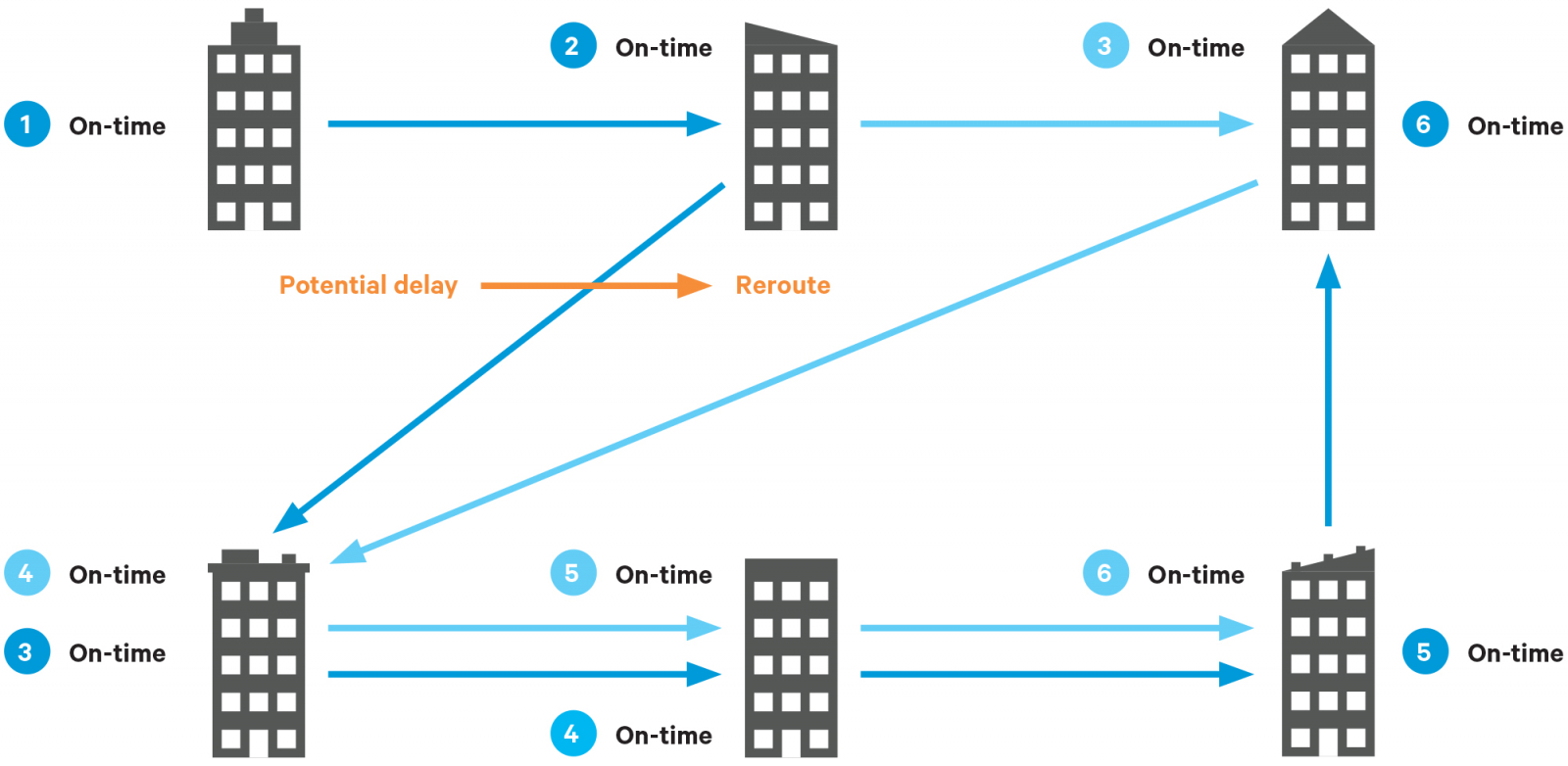 Norva24's branch network, density and digitized systems allow for efficient route planning. This enables the Group to complete more jobs while at the same time reduce resource use and emissions. When a potential delay occurs (3 in the illustration above), our digitized fleet management system assists in rerouting our services in order to opitimize an alternative time- and resource efficient route.