Norva24's decentralized operation model
Norva24 operates a decentralized operating model with a branch based set up that largely delegates business decisions to individual branches. This operating model combined with the acquisition strategy aims to achieve the benefits of scale to support the local branches, while promoting local entrepreneurial leadership.
The set-up is designed to provide decentralized decision-making combined with centralized support, a performance-oriented culture, and growth focus. Decentralized decision-making means that operational decisions are made by those individuals at the branch-level who have local relationships, expertise, and knowledge. Centralized support is provided so overall scale, corporate IT support, as well as capital and institutionalized best practices are achieved. A performance-oriented culture is monitored through benchmarking across branches, quarterly of margin levels and with respect to revenue growth, as well as training, measuring, and reviewing local branch managers and business units based on such benchmarking.
Growth is encouraged with financial and business plan responsibility throughout the organization, specifically through full profit and loss accountability across all levels. This drives top- and bottom- line growth, as well as sourcing and evaluating new potential M&A targets through local positioning and communication.
Three simple levels of organization are set: Group level, country level and branch level.
Group comprise of Norva24's executive group management, IT/digitalization team and Group finance team. Group level sets financial targets and provides overall strategy and support, approves and executes M&A transactions, performs country-level reviews of the Group's procurement orders and tenders above a set materiality threshold, and follows-up on sick leave and leave due to injuries. Group is also responsible for group accounting, Investor Relations and financing including bank agreements.
At the country level, four Country CEOs are responsible for P/L within each country, management and support of the country operations, implementation of Group strategies, monitoring of local performance and approving new customer accounts, and procurement orders and tenders within a set materiality threshold.
At the branch level, Norva24 has approximately 75 branch managers, who are responsible for daily business operations, marketing and sales, density of local networks, local branch financial performance and management and approve new accounts, procurement orders and tenders below a set materiality threshold.
The Norva24 operating model is based on the key principle that branch managers have the best knowledge of the local market, including customers, and competitive and other market dynamics and are therefore best placed to respond to customers' requirements.
Norva24 believes in autonomy given to local management as a key driver for strong local performance. Autonomy is also an important aspect of Norva24's proven M&A model, as it attracts well-established independent UIM service companies that are founded and managed by entrepreneurs who may wish to retain operational ownership over the local branches after the acquisition. The group provides a proven "playbook" and established set of tools to enable the branch managers to succeed.
The branch managers are key to success
The Norva24 model supports the branch manager in day-to-day operations.
The Norva24 operating model is designed to also drive the performance of branch managers by applying a strategy of overview and guidance. In the strategy, the performance of each branch is internally measured according to an agreed set of universal key performance indicators ("KPIs").
The KPIs help branch managers to step up efficiency and transparency, to achieve specific goals. KPIs measured include EBITA margin levels as well as sales growth. In the event of unsatisfactory KPIs within a branch, the management initially entrusts branch managers with addressing the underlying causes of the underperformance. Branch managers then work with Country CEOs and central support functions to devise a plan to improve the branch's performance.
Branch network and density
Norva24's branch network and local density allow Norva24 to serve customers more effectively due to close geographic proximity to customers providing quick response time to serve mission-critical customer emergencies and assignments.
With this branch setup Norva24 develop close local relationships with its client something that is valued highly by the local customers.
Norva24's density and network are key drivers of service proactivity and route planning and supports increased visibility and the ability to capture commercial opportunities. The ability to optimize and leverage the branch network and local density functions as a key driver of performance and efficiency for branches, and, in turn, increasing density generally leads to increased profitability.
Marketing and sales channels
Consistent with Norva24 operating model, the Group's sales activities are decentralized. Most decisions are made at the branch level, with support provided at the national and Group Management levels specifically as they relate to key customer accounts and public tender processes. Marketing activities are also decentralized, with a greater emphasis on the role of branches in local branding and marketing strategies.
On a country level, the Norva24 manages various marketing and sales functions and processes. The country level organization is responsible for onboarding and delivering key national accounts, whereby key account managers are tasked with ensuring that large clients receive standardized services and care across the group companies.
Norva24 value proposition to repeat customers is focused on providing a comprehensive service offering, becoming a partner of choice by offering rapid response time service with superior quality, ensuring adequate documentation and high ESG standards are in place and offering disruptive and innovative solutions, such as IoT surveillance solutions.
Norva24's initiatives for winning new customers focus on: targeted marketing through digital and traditional channels, incentivization schemes for local operators to onboard new customers, quality service to ensure referrals via satisfied customers, and tender process support at the country level to support local branches. New customers are also often won over by the local branch managers.
The Group's marketing strategy has a strong digital focus, which is primarily pursued at the country level. Marketing efforts are focused on both traditional as well as digital platforms, such as Facebook, Google Ads, email and Norva24's blog. Norva24 also has a modern website that drives traffic and delivers a positive and efficient customer experience. Orders can be done online and Norva24 has an internal system that reorganizes leads and opportunities and sends them to the relevant department or local branch automatically. Another example is that customers receive an email before and after emptying of septic tanks in Norway.
The Group is focused on a density-driven approach, targeting many customers in key areas of focus. As such, the Group is not dependent on revenue from a select number of key customers, but rather has a diverse customer base comprised of businesses of varying size as well as residential customers. This helps to reduce price sensitivity, increase margins and reduce customer dependency.
Revenue model and customer contracts
Norva24 has revenue from contracted arrangements for ongoing UIM services typically for municipalities as well as medium- and large-sized corporate customers. Contracts mostly have a multi-year duration of four to six years for municipalities and framework agreements for corporate customers.
Corporate customers, who typically do not have multi-year contracts in place, are often longstanding customers with recurring purchases.
The Group provides its UIM services to customers under one of the following three models: contracted, repeat/recurring and ad hoc and emergency services.
Our route-based and decentralised branch model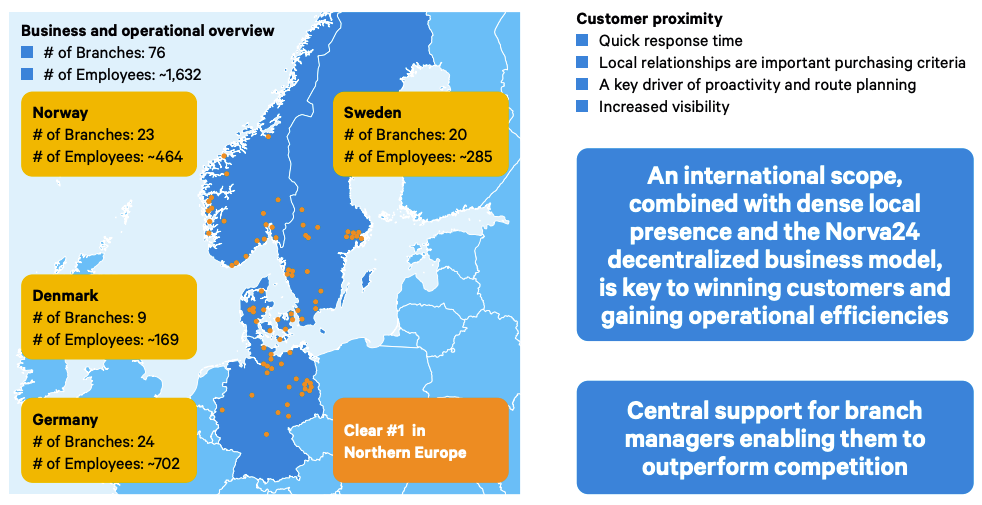 Tender processes
Norva24 assesses that public tender processes are an attractive area for organic growth, particularly as municipal pooling of tenders increases the size of tender contracts. Municipals amount to 30% of total revenues, but within this group it is highly fragmented. Norva24 has a strong track record for winning municipal tenders.
Permits and certifications
Norva24's operations and facilities are subject to water, waste, environmental, health and safety laws and regulations. Regulations and safety laws also exist for services related to Norva24s services such as water supply, as well as; the use, handling, treatment, recycling, release, management, storage and disposal of substances; air emissions, greenhouse gas emissions.
Vehicle fleet
Norva24's leasing model functions well for the vehicle fleet and benefits the Group in several ways such as lower cash capital expenditures which are spread over a long period of time. Norva24 leases its vehicles from approximately ten counterparties.
As of end of 2022, Norva24 had approximately 1,000 operating vehicles in its fleet, with approximately 280 in Norway, 200 in Sweden, 130 in Denmark and 390 in Germany. Norva24's vehicle fleet comprises of approximately 190 combi trucks, 140 sludge suction trucks, 35 super suction trucks, 30 mobile dewatering trucks, 200 flushing units, 10 vacuum trucks, 15 high pressure unit trucks, 110 camera vans, 70 relining vehicles and 60 recyclers. The vehicles in the fleet utilize a wide range of specialist equipment, and each type of vehicle is used for a variety of specified tasks. Approximately 80 percent of Norva24's operating fleet is younger than 10 years.
Highly sophisticated and advanced feet
Norva24 has a divers fleet of modern specialized vehicles able to provide a prompt response to different customers' needs.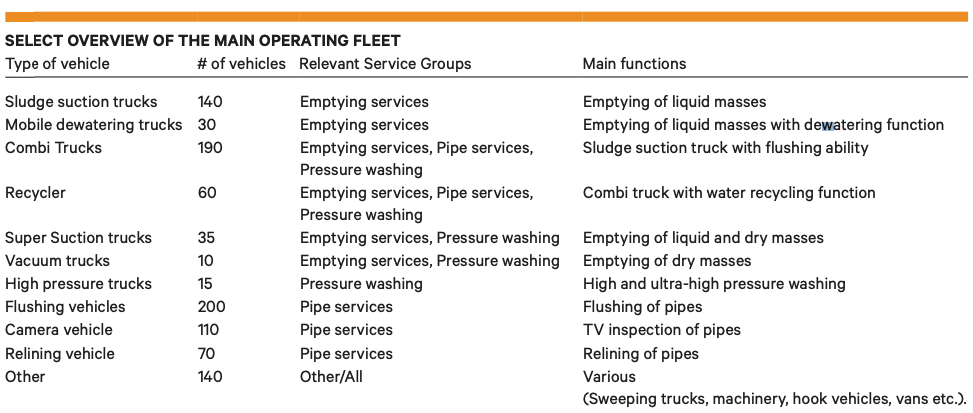 Equipment
Norva24 uses machinery and equipment provided by external suppliers for its services. IT and telecommunications services and products are provided by third parties, as are UIM vehicles, equipment, and products. The access to equipment has not restricted Norva24 growth.